Signature Kitchens has been redesigning and renovating bathrooms in New Jersey as long as we've been remodeling kitchens! A bathroom and a kitchen have a surprising amount of similarities. Both feature cabinets and countertops, water and sewer drains, and are usually busy rooms in your home! Your bathroom cabinetry can be designed to bring your unique style to life. Our custom bathroom cabinetry is manufactured by the same companies that provide our custom kitchen cabinetry.
Renovating a bathroom in Point Pleasant, NJ and Hawthorne, NJ can require as much coordination and planning as a kitchen remodel. Your bathroom is usually smaller in space, but can include more features for consideration. Remodel your bathroom and include custom designs such as a detailed tile layout, built-in accessories like robe hooks and towel bars. Maximize your functional space as much possible in a tight area.
We use the same experienced contractors for both kitchen and bathroom makeovers, and take the same amount of time and consideration when planning and executing the renovation. Keep reading to start planning your next bathroom remodel with the best remodelers in Hawthorne!
Design and Measurement Consultation

When you remodel your bathroom with Signature Kitchen, we start with an on-site evaluation and measurement. Our design and remodel team will work with you throughout your project, meeting for multiple consultations regarding design options and revisions. This includes preparation of computer generated layout drawings indicating the location of cabinetry, fixtures, and more. With NJ's expert bathroom remodeling service, your project will be no problem!
Custom and Semi-Custom Cabinetry

Get exactly what you want from your bathroom cabinets with custom and semi-custom bathroom cabinetry design in Hawthorne! We will guide you through the multitude of cabinetry options available, including assistance in selection of cabinet finishes, edge details, door and drawer styles. We also provide consultations and design options for countertops, and work with you to select the perfect one to match your cabinetry and floors.
Flooring Selection

You have many options for bathroom flooring. Remodelers in NJ use everything from tile, to stone, to luxury vinyl flooring to make your bathroom look its best—and resist water damage! When we redesign a bathroom, Signature Kitchens coordinates your flooring to fit seamlessly with your custom cabinets.
Lighting, Faucets, and More

Your bathroom wouldn't be complete without effective lighting, stylish faucets, and accessories like built-in towel bars or storage! We work with a number of manufacturers and are always happy to meet with our bathroom remodel clients to explore options—or find a part you love and build your whole bathroom design around it!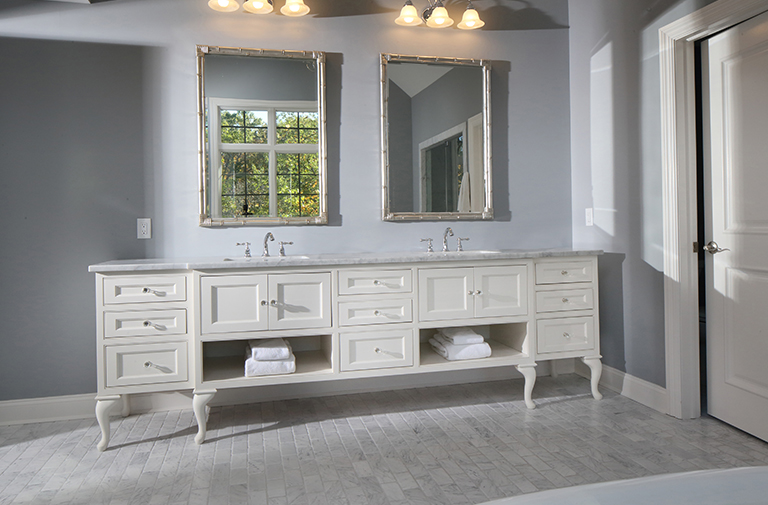 635 Lafayette Avenue
Hawthorne, NJ 07506

(973) 427-7966

807 Ocean Road Point
Pleasant, NJ 08742

(732) 785-2520